TESTING & SEXUAL HEALTH
THERE ARE A NUMBER OF REASONS FOR USING SEXUAL HEALTH CLINIC SERVICES
By visiting sexual health clinics we can also receive a number of free sexual health tools and services: these include treatment for STIs, PrEP (Truvada), PEP, vaccines, pelvic exams, and the opportunity to get information about how to have sex that works for us in a non-judgemental way.
These services also include regular testing for HIV and other sexually transmitted infections (STIs). Regular testing for HIV and STIs can help us stay on top of our sexual health and receive treatment we may not otherwise know we need.
However, accessing sexual health services can be an intimidating experience. It can be especially frightening for those of us who are generally less out about our sexualities.
We may fear we'll be 'outed', judged, or misunderstood for how we relate to our sexuality and outness.
In BC, 66% of us have told any health care provider that we have sex with other men [Sex Now 2014-2015]
Thankfully, for many guys in BC, there are great sexual health service options that have worked with us to better understand the complexities of outness, and that also prioritize client confidentiality.
HIM HEALTH CENTRES
HIM HOSTS FIVE HIM HEALTH CENTRES IN THE LOWER MAINLAND WHERE WE HAVE A NUMBER OF SERVICES FOR GUYS WHO HAVE SEX WITH GUYS NO MATTER HOW "OUT".
---
HIM Health Centres offer a number of HIV/STI testing, as well as: certain sexual health related vaccines (like Gardasil for HPV prevention and vaccinations to prevent you from Hep A and Hep B), treatment for those of us with an STI, and medicine that helps prevent HIV (PEP and PrEP) and even consultations with nurses.
All services are offered for free.
You can also pick up free condoms at any HIM Health Centres. All HIM Health Centres have dispensers with Large, Snug, Non-Latex, Non-Lubricated, Flavoured as well as Insertable condoms.
To ensure that we minimize risk of exposure to COVID-19, HIM is temporarily limiting the scope and scale of clinical services provided at HIM Health Centres until further notice.

Please visit HIM's COVID-19 resources page for the most up-to-date information regarding HIM Health Centres' operations.
LOCATION AND ANONYMITY
HIM HEALTH CENTRES ARE IN BUILDINGS THAT HOLD A NUMBER OF DIFFERENT MEDICAL OFFICES INCLUDING DENTIST AND WALK-IN CLINICS.
---
That means that if someone sees us going into a building where a HIM Health Centre is located, they wouldn't automatically know or suspect we might be using HIM services. In many cases, they wouldn't even think twice about it!
Locate the Health Centre closest to you here!
https://checkhimout.ca/health-centres/hours-and-locations/
CONFIDENTIALITY AT HIM HEALTH CENTRES
THERE ARE LOTS OF US WHO VALUE CONFIDENTIALITY WHEN USING SEXUAL HEALTH SERVICES. THIS CAN BE ESPECIALLY TRUE FOR THOSE OF US WHO ARE LESS OUT OR HAVE A COMPLICATED RELATIONSHIP WITH OUTNESS.
---
We sometimes forget that all care providers are bound to client confidentiality by a number of strict professional codes. This includes the nurses, doctors, phlebotomists, and counsellors that work out of HIM Health Centres.
HIM volunteers who help us operate the Health Centres sign an oath of confidentiality and are not allowed to share anything they see in the Health Centres.
Afraid of what happens if you recognize or know a volunteer who you don't want to greet? Volunteers are asked to be professional with clients they know and only interact as friends if the client initiates.
In order to ensure that the space is comfortable for people of all levels of outness, we ask and expect all clients to respect each others' confidentiality.
CONFIDENTIALITY AND
ANONYMOUS TESTING
AT HIM HEALTH CENTRES, CLIENTS HAVE THE OPTIONS OF GETTING HIV AND STI TESTING NON-NOMINALLY. THIS MEANS USING A FAKE NAME THAT ISN'T YOUR OWN (PSEUDONYM), OR JUST PART OF YOUR NAME.
---
If you're using a fake name, using the same name every visit will help nurses keep track of your health history so they are able to provide you with better care.
We encourage clients to provide contact information to make it easier for you to get your test results (keeping in mind that there are strict laws around client confidentiality that guarantees your information is kept safe!). However, if you're really worried about your confidentiality there are ways for you to access your test results without leaving contact information.
In many cases, anonymous testing can also be an option. In these situations, you are given a unique number that is linked to your results. If you lose or forget that number, there is no way that nurses can access your results.
Remember, HIV/ STI testing at HIM Health Centres is free. You do not need to be on Medical Services Plan (MSP), or have a Personal Health Number or BC Services Card (CareCard).
OUTNESS AT HIM HEALTH CENTRES
MANY OF US HAVE HAD EXPERIENCES USING HEALTH SERVICES THAT LEAVE US FEELING MISUNDERSTOOD OR JUDGED.
---
Those of us who are less out may worry about going to a health centre aimed at gay, bi, and other guys who have sex with guys.
This is also true for those of us who have sex with other guys but aren't gay, bi, or queer.
We are working hard to make sure that everyone working out of HIM Health Centres understand the complexities of outness and the importance of treating everyone with respect, no matter how out we are.
ACCESSING A HIM HEALTH CENTRE, STEP BY STEP
ACCESSING ANY NEW SERVICE CAN BE NERVE-WRACKING OR INTIMIDATING. ALTHOUGH WE STRIVE TO MAKE HIM HEALTH CENTRES FRIENDLY AND ACCESSIBLE SPACES, IT CAN BE EASIER TO ACCESS A SPACE IF WE KNOW WHAT TO EXPECT. HERE'S A STEP-BY-STEP GUIDE TO ACCESSING A HIM HEALTH CENTRE.
---
Remember, HIM Health Centres are located in buildings that hold a number of other medical offices. Even if someone sees you going into a building with HIM in it, they'll think you're going to the dentist, general walk-in clinic, or another medical office!
Although HIM Health Centres may not be operating at regular capacity due to the COVID-19 pandemic, we hope that showing how they typically run will ease any anxiety about accessing us during the pandemic (if needed), or sometime in the future once we can return to regular operation.
STEP 1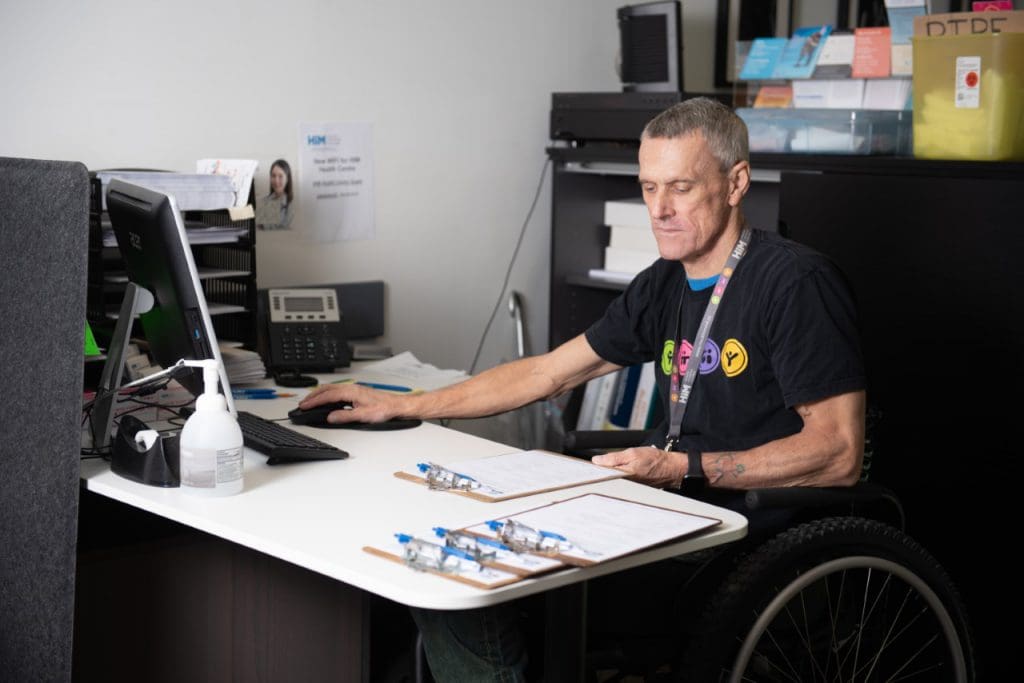 WHEN YOU ENTER A HIM HEALTH CENTRE, YOU'LL BE GREETED BY A VOLUNTEER AT THE RECEPTION DESK.
The volunteer will ask who you're there to see or what services you're looking for: "Here for testing? counselling?"
They will not ask probing questions, but they will try to help you figure out what you are there for. Please feel free to communicate freely with the volunteer, they've seen it all and they won't judge.
---
STEP 2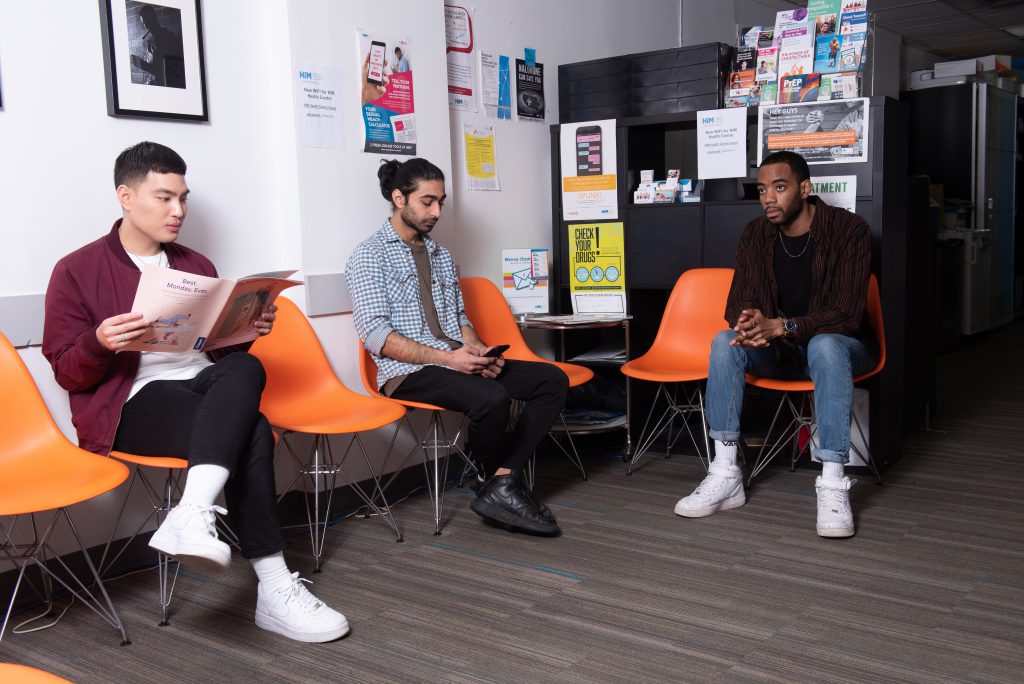 IF YOU HAVE AN APPOINTMENT, THE VOLUNTEER WILL ASK THE NAME YOU USED WHEN BOOKING YOUR APPOINTMENT. THEY WILL THEN MARK YOU AS "PRESENT" AND ASK YOU TO TAKE A SEAT IN THE WAITING ROOM.
If you do not have an appointment, the volunteer will check if appointment slots are available and give you an estimate of how long the wait will be.
If you decide to sign up for the available slot, you will be asked to provide a name. Remember, you can give just your first name, fake name, or an alias.
You have the option of going elsewhere while you wait, or killing time in the waiting room.
---
STEP 3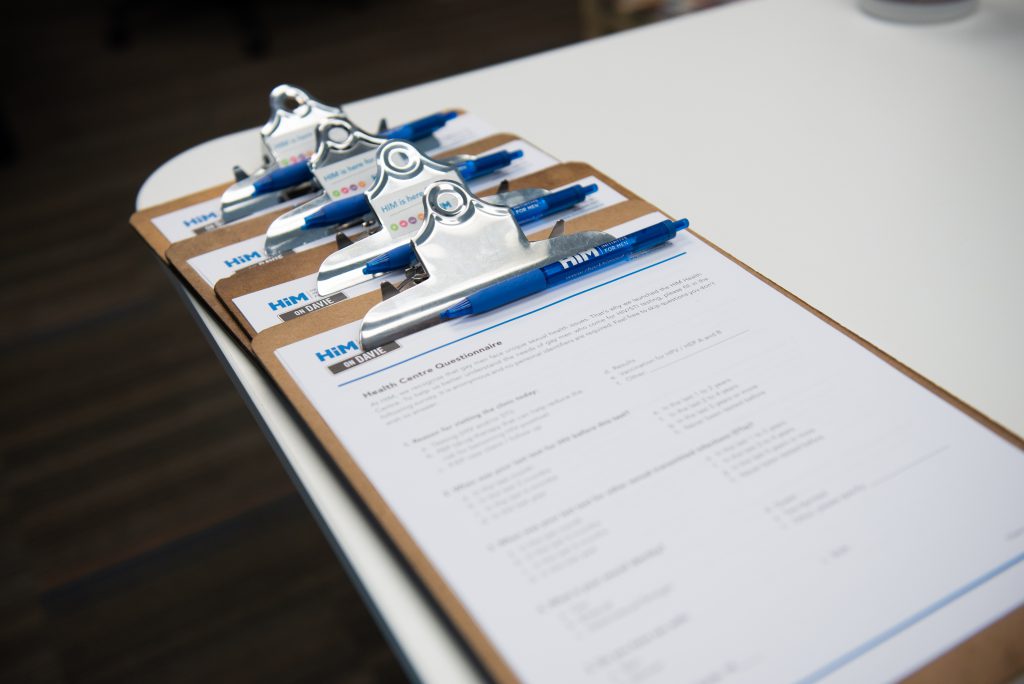 IF YOU'RE IN FOR HIV/ STI TESTING, THE VOLUNTEER WILL HAND YOU A CLIPBOARD WITH THREE FORMS FOR YOU TO COMPLETE IN THE WAITING ROOM:
All of these forms are optional. You can decide to skip as many forms or individual questions.
An anonymous HIM questionnaire. This helps us see who is coming into the Health Centre and how to better improve services.
A short questionnaire called the HIRI-MSM Risk Index. This is used by the doctors and nurses to get a sense of how likely you may be of picking up HIV based on your sexual activities over the previous 6 months.
A third form that collects personal information. This is used by the nurses to create or update your file in their administration system.
Remember, all forms are optional, and you don't need to have a file in the administration system to receive services!
---
STEP 4
WHEN IT'S YOUR TURN, A NURSE WILL GET YOU AND WALK YOU TO A PRIVATE CLINIC ROOM.
Please be patient if you have to wait a little longer than you expected. Although appointments are scheduled for 30 minutes, some can take longer and others shorter.
---
STEP 5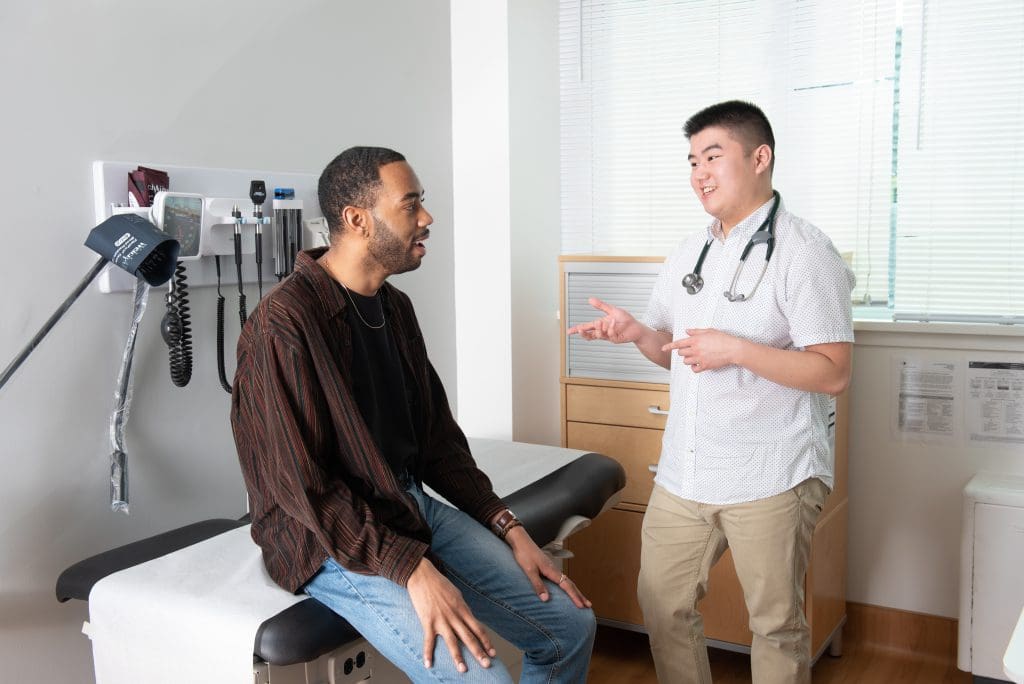 THE NURSE WILL START BY ASKING WHY YOU'RE VISITING. IF YOU HAVE QUESTIONS ABOUT CONFIDENTIALITY OR ANONYMOUS TESTING, NOW'S THE TIME TO BRING IT UP!
You and your nurse will decide on the confidential or anonymous testing option that works best for you.
The nurse will also talk to you about what kinds of testing and other sexual health tools are right for you.
The nurse will also explain how you'll receive or be able to access your test results.
Keep in mind that when you don't provide a phone number or email address, the nurse won't be able to contact you in case your results need a follow up.
---
STEP 6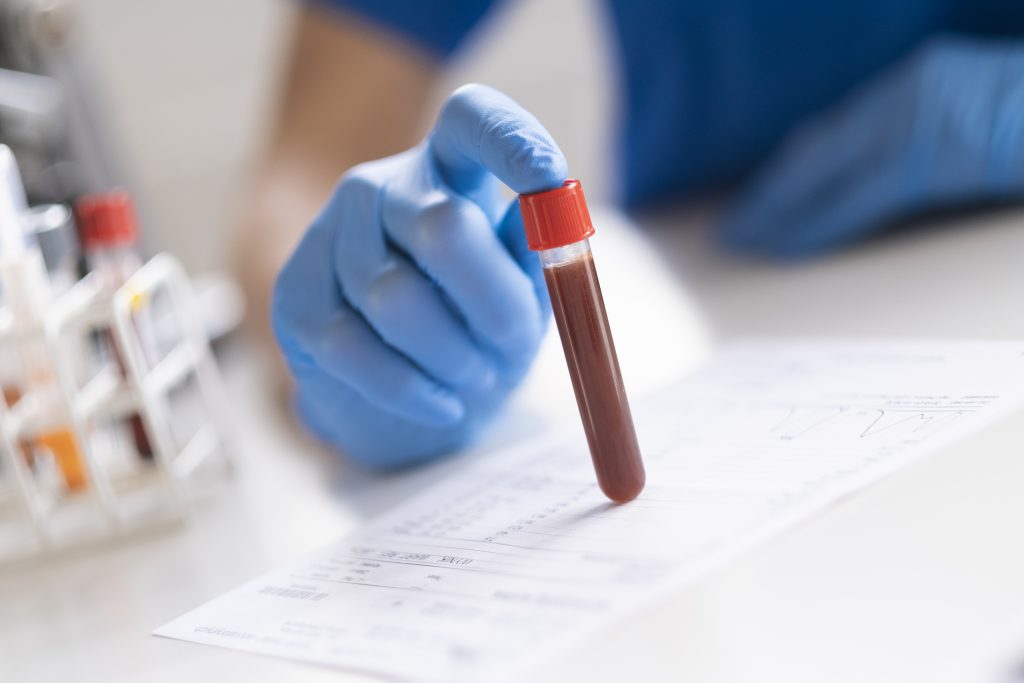 DEPENDING ON THE KINDS OF SEX YOU'RE HAVING, THE NURSE MAY RECOMMEND A BLOOD TEST (FOR HIV AND SYPHILIS), A URINE SAMPLE, AND THROAT AND/OR BUM SWAB (FOR OTHER STIS LIKE CHLAMYDIA AND GONORRHEA).
The nurse will take your blood sample in their consulting room and will give you instructions for you to deposit a urine sample into a cup in the bathroom.
You may also be asked to collect your own throat and/or bum swabs in the bathroom. However, if you're unfamiliar with the process or aren't sure you'll be able to properly collect your own samples, most nurses will collect it for you.
As uncomfortable or embarrassing as it may seem to you, sexual health nurses are specially trained and prepared to do this.
---
STEP 7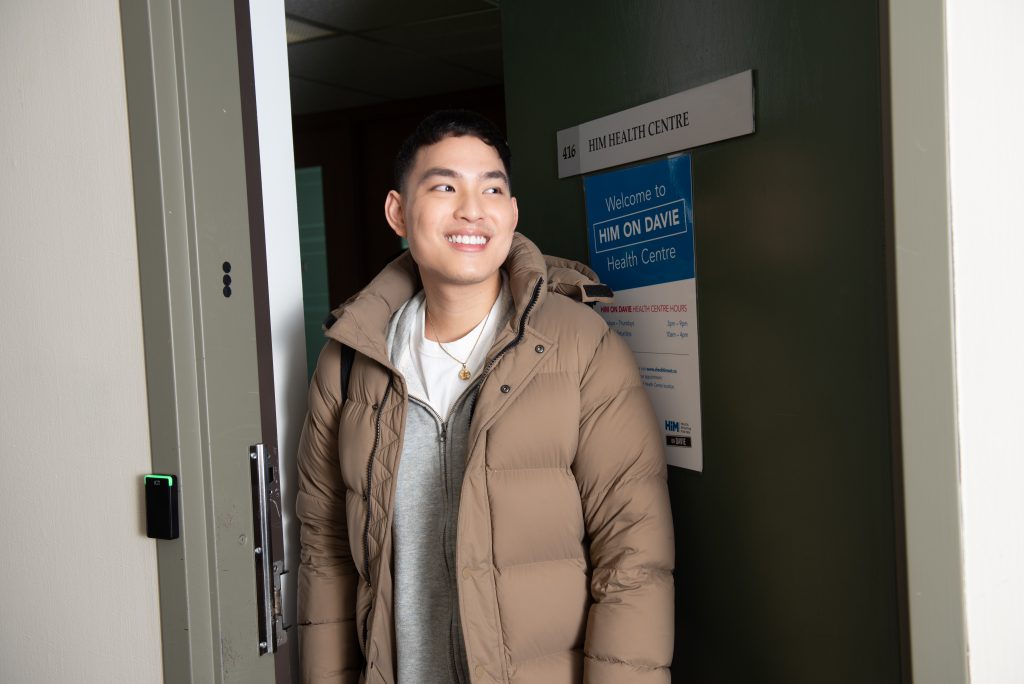 YOU'RE DONE! JUST RETURN THE TESTS TO THE NURSE OR VOLUNTEER AND START THINKING OF SCHEDULING YOUR NEXT CHECK UP!
---
GET CHECKED ONLINE

GetCheckedOnline is a free and confidential online sexually transmitted infection (STI) testing service provided by the BC Centre for Disease Control (BCCDC).
Use promotional code MyTest to sign up and get tested online!
At this time, GetCheckedOnline is available in Vancouver, Victoria, Duncan, Kamloops and Nelson in BC.
Get Checked Online is still operating during the COVID-19 pandemic, and may be a good option while regular services get back to a more regular schedule.
BATHHOUSES
YOU CAN ALSO RECEIVE CONFIDENTIAL TESTING AND CONSULTATION WITH A SEXUAL HEALTH NURSE AT SOME OF THE BATHHOUSES IN THE LOWER MAINLAND.
---
This service is free, and you don't need to use the actual bathhouse or pay to go into the bathhouse to see the nurse.
Interested? Call the bathhouse and ask them what days the nurse is in.
The COVID-19 pandemic may have disrupted testing at bathhouses. Contact the bathhouse directly and ask about the status of their regular testing services.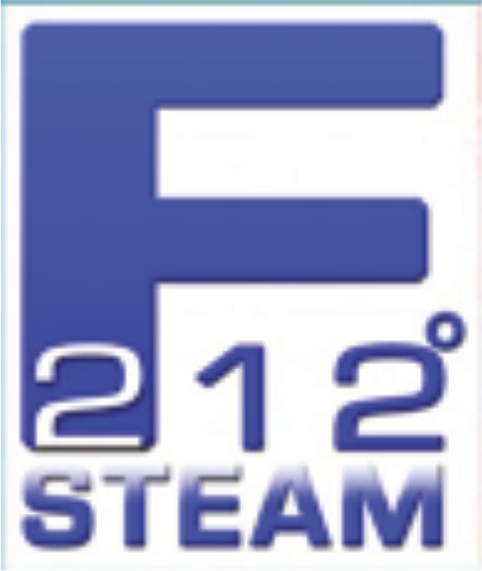 1048 Davie St,
Vancouver, BC V6E 1M3
(604) 689-9719
Check out F212's calendar for when the nurse is in: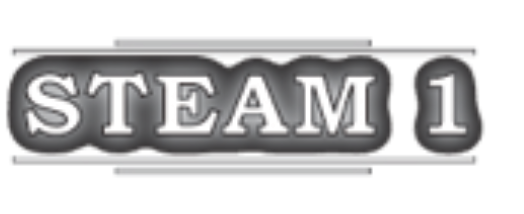 430 Columbia St
New Westminster, BC V3L 1B1
(604) 540-2117
Nurse usually in on Thursdays 1pm -5pm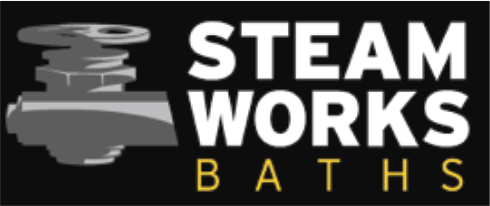 123 West Pender
Vancouver, BC V6B 1S4
(604) 974-0602
Give Steamworks a call to find out when the nurse is next in.
OTHER TESTING SPACES AND SEXUAL HEALTH TOOLS